The Missoula Mercantile Building (1877), the very heart of historic Missoula, is no more.  It has been demolished to make way for a generic contemporary structure.  Even more sadly, East Front Street will soon have lost almost all its historic character as entire blocks of the city's oldest houses have been or will shortly be demolished to make way for two more soul-less modern buildings. It has been a very sad and hard lesson to learn how little the administration of our city cares about its history and character, pages of crocodile tears in the demolition approval notwithstanding.  Our thanks to Preserve Historic Missoula and others for their valiant efforts to save the Merc.  Alas, the power of big money, as is almost always the case, proved to be too strong. 
Forgotten Wilma sorrowfully bids the iconic Missoula Mercantile building, erstwhile home of the company that founded the city's success, farewell, forever.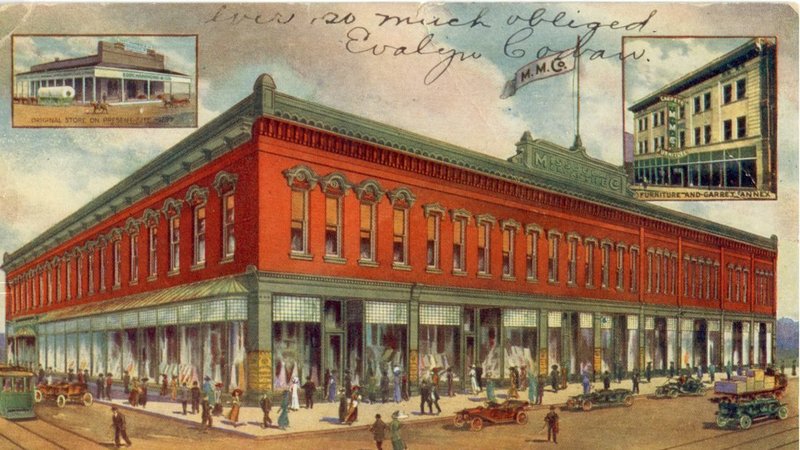 *   *   *
The Wilma Building, imposing denizen of Missoula for over 90 years, still stands sentinel at the head of the Higgins Bridge, bearing witness to the manifold comings and goings of people, places and events in the Garden City.  She is thus an appropriate symbol for a website dedicated to the preservation of an otherwise endangered history of Missoula, of that which is not set forth in the official annals.
Welcome to Forgotten Wilma!  We hope you enjoy the articles you find here and invite your contributions. You may search the site using the search bar at the top of each page, or sort the articles by date or category using the links at the left side of the Articles page. Click on any image thumbnail to link to a full-sized image at its host site. Comments may be submitted using the Reply box at the bottom of each article.
This website is dedicated to the following individuals who built, cared for and preserved Missoula's greatest landmark throughout its ownership by the W.A. Simons Amusement Company: Billy Simons, Edna Wilma Simons Sharp, Eddie Sharp (& Koro Hatto), Bob Sias and David Keith.